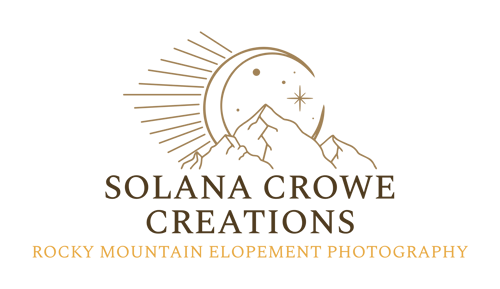 Solana Crowe Creations uses this site to give a better service to its customers. Please read the following rules that govern your use of solanacrowecreations.com, which you accept by accessing it. If you don't agree, please don't use it. We reserve the right to update or change the Terms and Conditions at any time without prior notice, that is why we recommend that you read this section every time you use this site.
1. Agreement to Terms
By accessing or using this website, you agree to these terms and conditions. If you do not agree with any part of these terms, you should not use this website.
2. Privacy Policy
Your use of our website is also governed by our Privacy Policy. Please review our Privacy Policy, which explains how we collect, use, and protect your personal information.
3. Booking and Payment
3.1. To book our elopement photography services, you must provide accurate and complete information about your event.
3.2. A deposit is required to secure your booking, with the remaining balance due on or before the event date.
3.3. We accept various payment methods, which will be communicated during the booking process.
4. Cancellation Policy
4.1. If you need to cancel or reschedule your booking, please provide us with notice as soon as possible.
4.2. The deposit is non-refundable, but you may reschedule based on availability and circumstances.
5. Photography Rights
5.1. We retain the rights to all photographs taken during the event, including the right to use them for promotional purposes, unless otherwise specified in a written agreement.
5.2. You are granted personal usage rights to the photographs for non-commercial purposes.
6. Copyright
6.1. All content on this website, including text, images, graphics, and logos, is the property of Solana Crowe Creations and is protected by copyright laws.
7. Limitation of Liability
7.1. We will not be held liable for any loss, damage, or injury arising from our services, including but not limited to, equipment failure, accidents, or other unforeseen circumstances.

8. Governing Law
8.1. These terms and conditions are governed by and construed in accordance with the laws of Alberta.
9. Changes to Terms and Conditions
9.1. We reserve the right to modify or revise these terms and conditions at any time. Please check this page periodically for updates.
10. Contact Information
If you have any questions or concerns about these terms and conditions, please contact us at Info@solanacrowecreations.com
By using our website and services, you acknowledge that you have read, understood, and agree to be bound by these terms and conditions. Thank you for choosing Solana Crowe Creations.