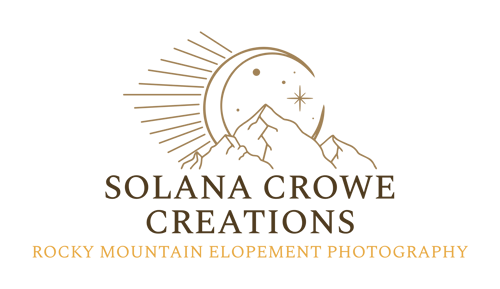 How to elope in Banff
You're thinking about eloping in Banff but you have no idea where to start! You want an epic day with amazing views and a stress free experience. In this guide I will share with you everything you need to know to elope in Banff!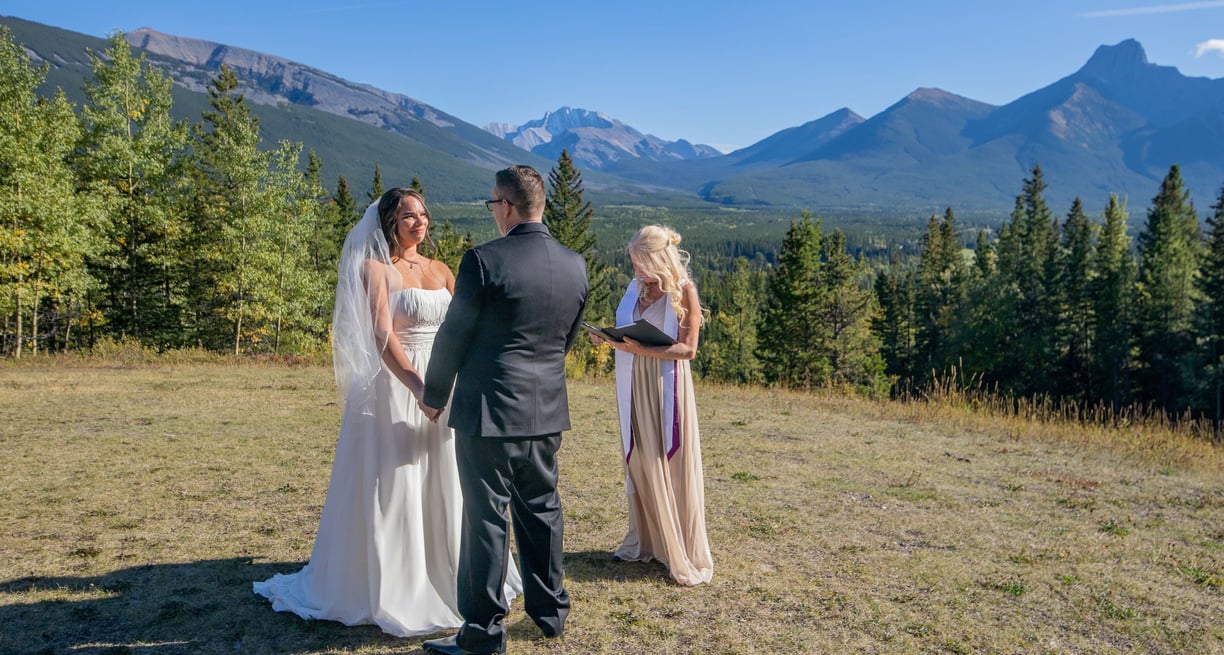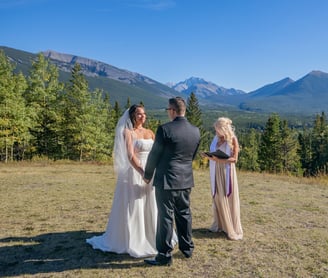 Banff offers so many breathtaking locations for your elopement. While it is so hard to choose from all of them here are a few of the popular locations for elopements:
a. Lake Louise: Renowned for its turquoise waters, this iconic lake offers a magnificent backdrop for your ceremony. Parking can fill up here so it's best to opt in for their shuttle service you can find that here or plan to arrive early in the morning.
b. Moraine Lake: With its stunning valley and towering mountains, Moraine Lake provides an enchanting setting for your special day. This lake is only accessible by shuttle, taxi service or hiking/cycling in. You can find information about the shuttles here. It's also important to note there is an extra shuttle service for sunrise which you can find here.
c. Bow Lake: Located just past Lake Louise, Bow Lake is a beautiful lake, with the option to walk around the lake towards the glacier waterfall, it's perfect for an elopement. This lake is generally less busy making it a great option for your wedding day.
d. Peyto Lake: Located 5 minters from Bow Lake, Peyto Lake is a great option for those who want to elope on top of a mountain without a long hike! This lake offers mountain-top views looking over a mountain valley with a bright blue glacier lake. Getting here requires a 5-minute uphill walk making it a perfect location for your elopement. Parking here generally doesn't fill up, so n need to stress about parking. yay!
e. Takakkaw Falls: about 15 minutes down the road from Lake Louise is Takakkaw Falls. These falls are a great option for getting right up close to some epic mountain waterfalls. If you love waterfalls you will definitely want to make sure this spot is on your elopement location list!
f. Vermilion Lakes: Located just outside the town of Banff, this serene location showcases picturesque reflections and incredible sunset views. This is a great spot for a little picnic to refuel for the rest of your elopement day.
g. Sunshine Meadows: Another incredible location just outside of Banff is Sunshine Meadows, located at the Sunshine ski resort. Take the gondola up the mountain and explore the mountain-top views with grassy mountain areas. This area fills up with wildflowers in July making it a beautiful location for an elopement. You can check that out here
h. Lake Minnewanka: Located 10 minutes outside of the town of Banff is Lake Minnewanka, a beautiful mountain lake perfect for an elopement! This lake is a great option if you're looking for a variety of different views for an elopement spot. This lake gets busy during the summer months so I would recommend getting here early so you can find a place to park!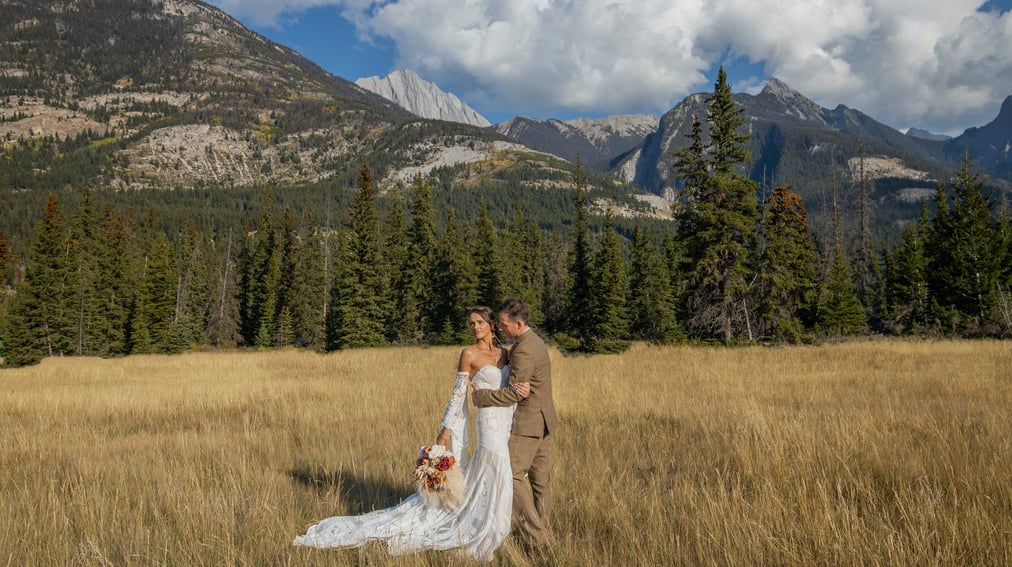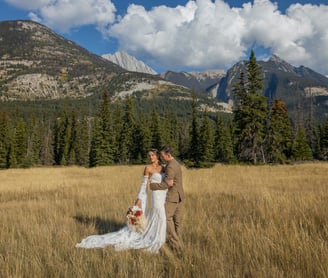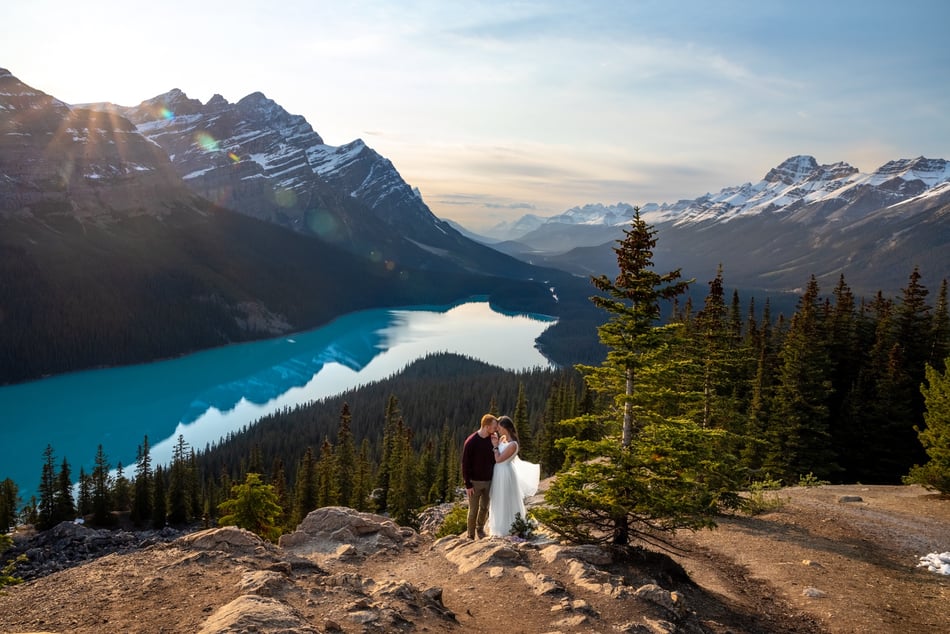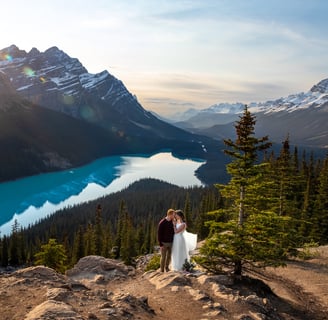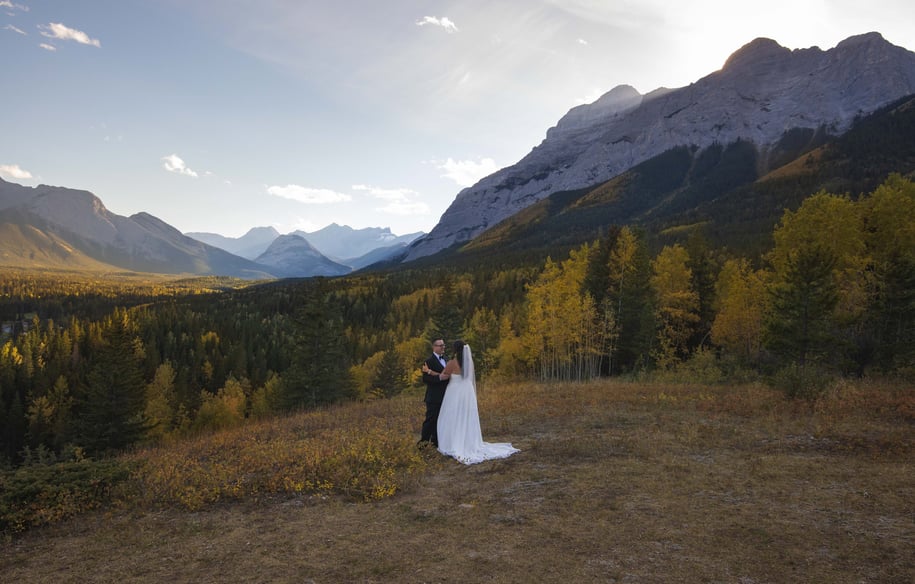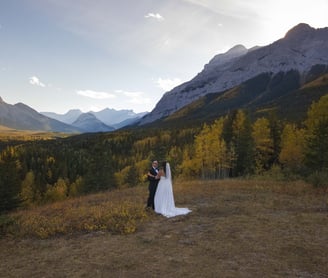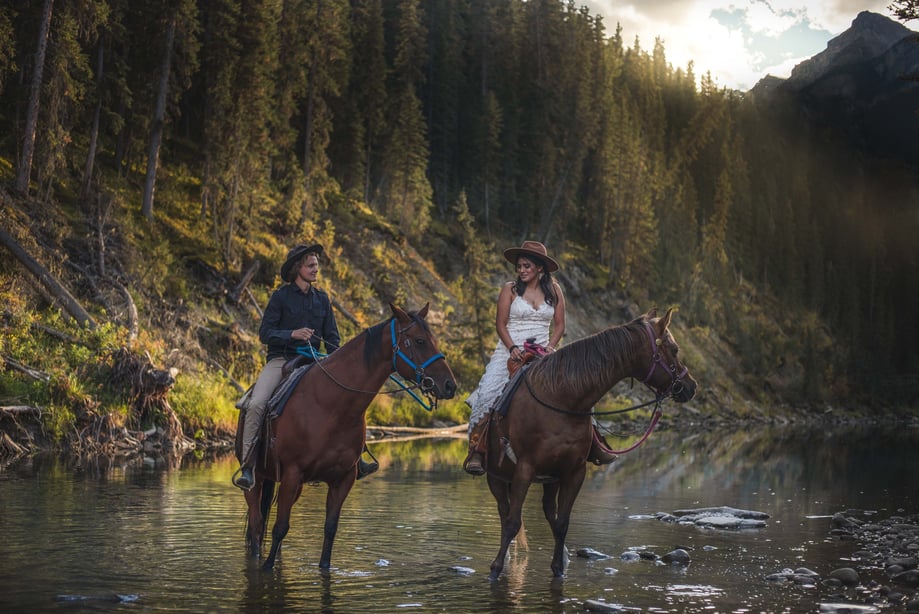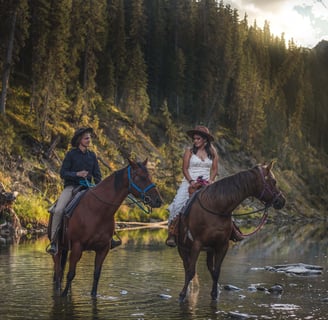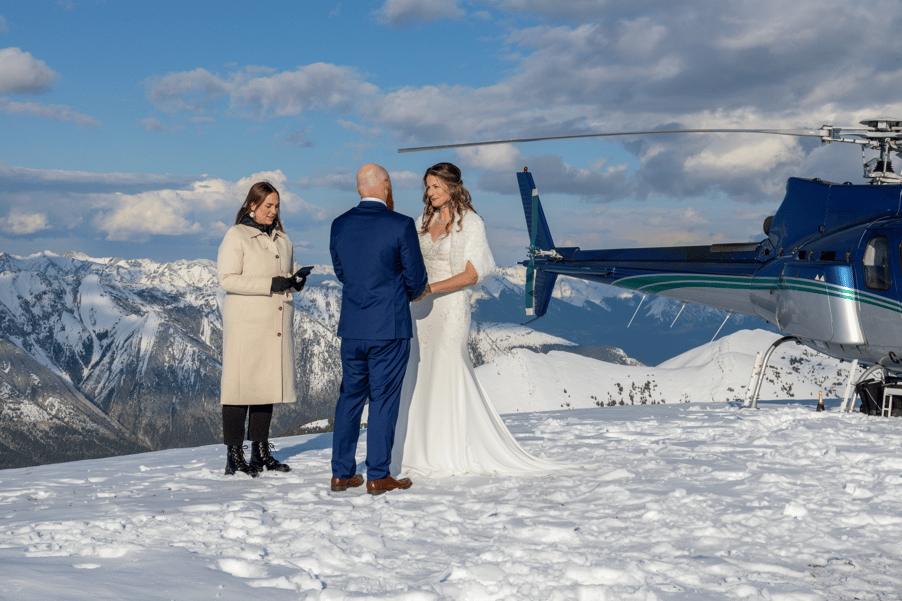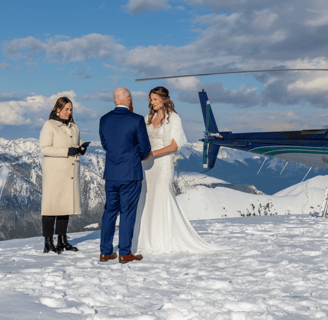 In conclusion, eloping in Banff is a dream come true for couples seeking an epic and stress-free experience amidst breathtaking natural beauty. With the information and guidance provided in this comprehensive guide, you now have the tools to plan and execute an unforgettable elopement in Banff.
By carefully selecting vendors such as officiants, florists, and hair and makeup artists who specialize in elopements, you can ensure that every aspect of your day reflects your unique love story. Obtaining any necessary permits and understanding the legalities of eloping in Banff National Park will help you secure your desired location without any surprises.
You're envisioning a breathtaking elopement in the picturesque landscapes of Banff, but you may be feeling overwhelmed about where to begin. Fear not! This comprehensive guide will equip you with everything you need to know to plan and execute your dream elopement in Banff. From finding the right vendors and obtaining permits to exploring stunning locations and choosing the perfect attire, we've got you covered.
To start your Banff elopement journey, it's crucial to understand the general planning process. Begin by considering your budget, preferred date, and guest count. As elopements are typically intimate affairs, make a list of the key elements you desire, such as vendors, activities, and locations.
a. Officiant: Find a reputable and experienced wedding officiant who can help you create a personalized ceremony that reflects your unique love story. Look for professionals who specialize in elopements and are familiar with Banff's regulations and requirements. You can find officiants in Banff here
b. Florists: Banff boasts talented florists who can design stunning bouquets and arrangements tailored to your elopement style and preferences. Having real flowers on your elopement day adds a lot to your elopement photos. If you are worried about damaging them too much throughout your day you can also get fake flowers online before your day!
Here are some local Banff florists
c. Hair and Makeup: There are a few HMUA located right in Banff and many travelling ones. Here are a few HMUA options located in Banff.
d. Photography & Videography: By far one of the most important vendors for your Banff elopement. These are the vendors that will document the whole thing so you can share it with friends and family who weren't there. Things to consider when choosing is their style as well as whether or not they have experience with elopements! Elopement are different from weddings and hiring a wedding photographer for an elopement may not yield the results you're looking for! You can find Banff elopement photographers/videographers online or through social media platforms! If you're looking for someone who offers it all from Photography, videography to planning you can check out what I do here
Eloping in Banff national park is free but requires a permit. It's a simple process that involves you filling out a form and sending it to the Parks Canada office. From there you should be good to go and have a permit to elope in Banff! You can find that by clicking here. Once you have your wedding permit for Banff, you will need to purchase a park pass day pass for the duration of your stay in Banff. This is required for all vehicles in the park. You can purchase this online or as you arrive at the park.
Selecting the Perfect Location:
This to keep in mind when planning your elopement is your timeline! How long you want your elopement to last will also depend on how many locations you want to hit and any activities you want to do! It's also important to keep in mind the best time of day to be getting photos done. For the best lighting conditions, you want to think about either having sunrise or sunset photos! These are the golden hours of photography. A great way to start planning your timeline is to figure out how many spots you'd like to hit and how you want to feel on your elopement day.
Are you ok feeling rushed or do you want it to be relaxing? If you don't want to feel rushed it's suggested you allocate about an hour at each location with some being a bit shorter like a waterfall. An hour at each location gives you time to experience the spot, get photos and enjoy your time. It's also important to factor in driving time, hiking time as well as how easy parking will be.
All these things add time to your day which adds up! It's also important to note how long some activities take. Thinking about a helicopter elopement? You'll want to arrive an hour early for that, going up a gondola. You want to factor that time in as well. Lastly your ceremony! Elopement ceremonies usually take about 30 minutes to complete depending on what you're including in your ceremony.
Crafting the Perfect Timeline:
Finding Vendors for your elopement
Banff Elopement Photographer
Hi! My name is Solana and I am an elopement photographer based in Banff, Alberta. I offer photography, elopement planning as well as videography for an all-in-one seamless experience. If your thinking about eloping get in touch and lets plan it!