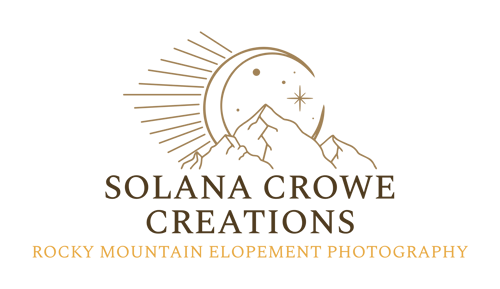 How to Elope in British Columbia
British Columbia offers amazing landscapes and views of the Canadian rocky mountains. It is the perfect place for couples looking to get married somewhere breathtaking, and rugged with numerous elopement activities. Whether you leaning towards a helicopter elopement, Hiking, Canoeing, camping, or a gondola ride B.C. offers it all!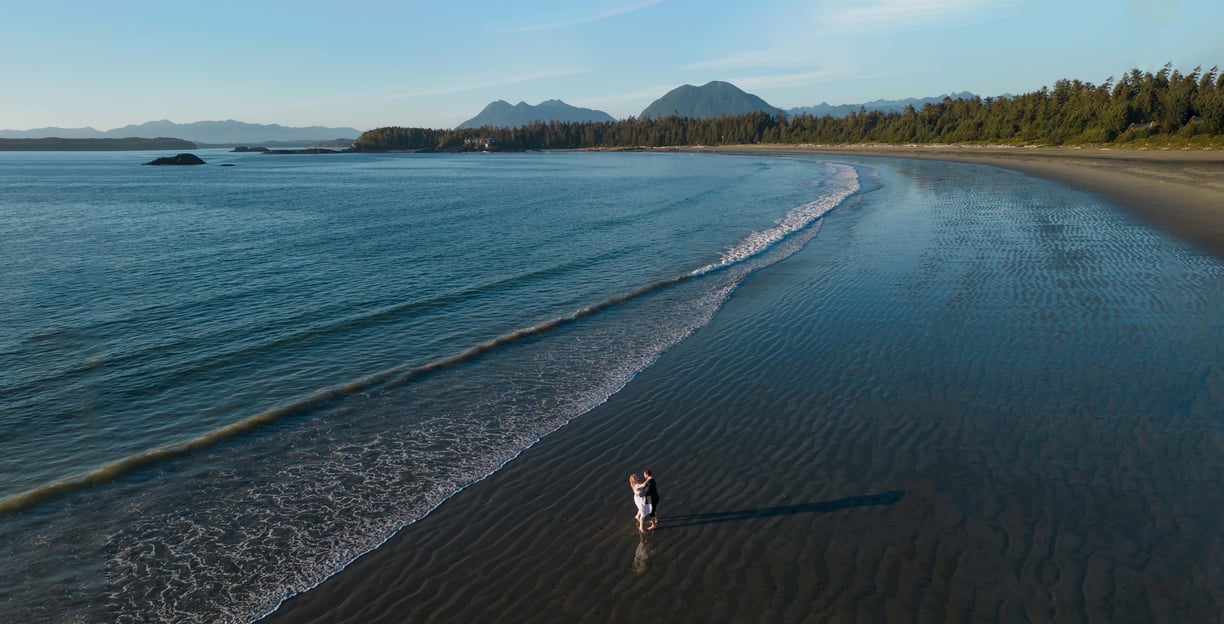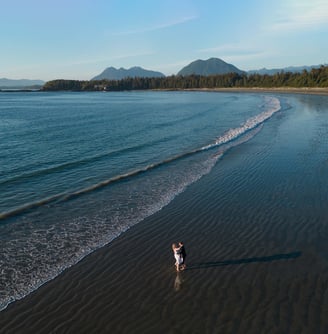 Vancouver Island: If you love the ocean, mountains, lush forests, waterfalls and warm weather in the spring & fall, Vancouver Island is an awesome place to elope in B.C. With the famous beaches of Tofino, the more rugged beaches near Victoria or the mountain ranges and lush rainforests towards the center of the island it is the perfect spot if you want a location that has it all! There are also a lot of activities you can include in your elopement! Like riding bikes along the beach in Tofino, A sailboat ride along the shore, take a sightseeing tour to some of the islands in the area or a helicopter ride up to the top of a mountain overlooking the ocean with 49 North Helicopters. If this sounds like fun, Vancouver Island is the perfect elopement destination for you! The best time to visit is spring and fall to avoid crowds.
Kootney Provincial Park (Radium hot springs/Invermere): If your wanting beautiful mountain lakes, do a little bit of off-roading down log roads, relax in natural hot springs on the side of a mountain river and giant hoodoos, the Invermere area is for you! This area is less touristy and offers many opportunities to find your own beautiful destinations with the numerous logging roads in the area.
Yoho Provincial Park: This area, close to the border of Alberta & Banff National Park offers some less-known and popular gems perfect for an elopement. With numerous waterfalls such as Takakkaw Falls and Wapta Falls as well as famous lakes such as Emerald Lake and Lake O'Hara there is something for couples who love the mountains! You can take a gondola to the top of the mountain in Golden and get panorama mountain views or opt-in for a backcountry mountain location with Alpine Helicopters. Overall Yoho provincial park offers incredible locations that will create magic within your wedding photos.
Where to Elope in B.C?
Depending on which part of this beautiful province you're aiming towards will depend on where you choose to elope! However, if you're looking for an elopement destination in B.C with specific views here are some of my suggestions!
Mount Assiniboine Provincial Park: If you're a couple who loves the ruggedness of the B.C Rockies then Assiniboine Provincial Park is perfect for you! This remote location provides an amazing elopement adventure for couples who want the full adventure elopement experience. To access this area you need to either hike in, ride a horse or get a ride on a helicopter with Alpine Helicopters. This park offers amazing views of Mount Assiniboine and other beautiful mountain landscapes.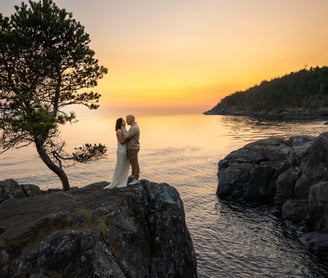 Can't decide on a location?
Here are some things to help me help you plan your elopement.
Are you wanting to stay in a mountain town, Camp or stay in a cabin in a more remote location?
What kind of activities do you want to do? Do you want to hike, Canoe, take a helicopter ride, go climbing, ride horses, go off-roading etc.
What kind of scenery do you want to witness? Mountain top views, badlands, mountain lakes, the ocean, forests etc.
Are you planning to have guests? Does the location need to be easily accessible? Are you wanting to elope with your pets?
All these things will help me give you location ideas if you're not sure where you want to elope! Your ideal location can really depend on your answers to these questions.
Best Time to elope In British Columbia
British Columbia offers breathtaking landscapes and a variety of stunning locations, making it an ideal destination for couples looking to elope.
With its diverse geography and mild weather, the best time to say "I do" in this Canadian province is during the summer months of June to August. During this time, the weather is warm and pleasant, allowing for outdoor ceremonies amidst the picturesque mountains, lakes, and forests. However, this time of year is the most popular in the Rockies.
To avoid crowds and still have access to many of the lakes, Fall (September -October) is a great season to elope in B.C. The weather can however be unpredictable so be prepared with some warm clothes.
Winter is also a great time to elope if you love the idea of snowy mountains and ice-covered lakes. The crowds are low at this time however many locations become inaccessible.
Spring is also a great time to elope, the weather is getting warmer and crowds are still low. Many locations however are still unaccessible.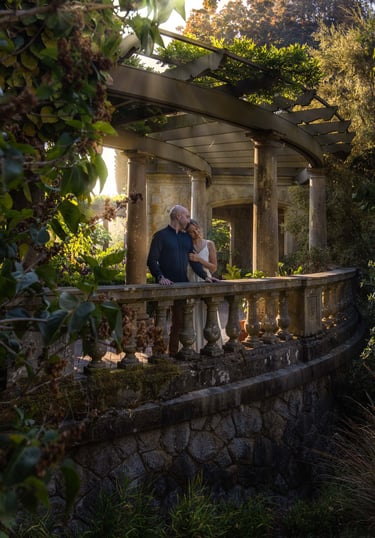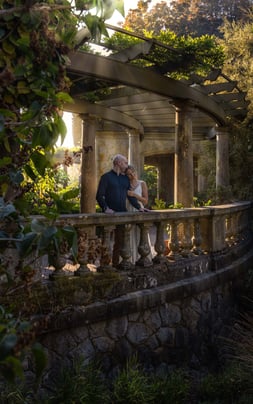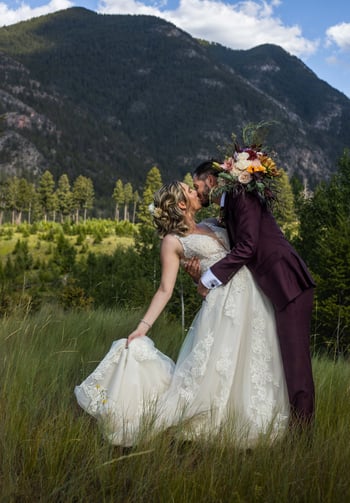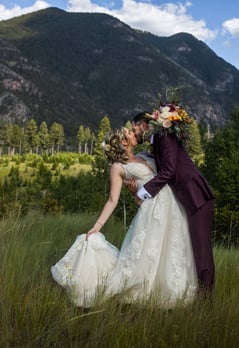 Best Time of day to elope In B.C
Due to the popularity of many B.C. destinations, avoid weekends and opt in for a weekday elopement! During the week crowds are generally at their lowest with the weekends being busy.
Best Time of Day for your elopement:
Sunrise is a great option for more touristy locations. At this time there are fewer people meaning you are more likely to find parking and have some privacy. It is also a great time for photos due to the soft light of sunrise.
Sunset is also a great time of day for your elopement however there will generally be more crowds. Sunset also known as golden hour creates beautiful light on the mountains.
What to do in the middle of the day
The middle of the day is a great time to do some activities. If you want to do a hike, take a gondola or have a picnic these are great opportunities to avoid the mid-day crowds.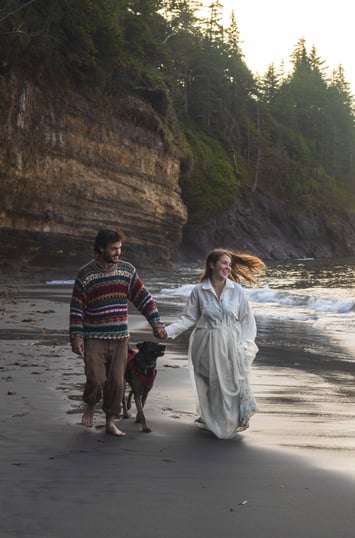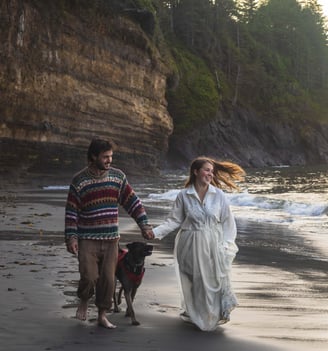 Packing list for your elopement in B.C.
Before you embark on this unforgettable adventure, it's crucial to make sure you pack everything you need.
Your marriage license (if you want to make it legal)

Your wedding permit if you are eloping in a national park.

Extra pair of shoes. Bring the shoes you want photos in and an extra pair for walking around in unless hiking boots are the vibe you're going for!

Extra layers. Bring along a pair of white leggings to go under your dress, a jacket and a blanket in case it gets cold

Your camera. I will have mine snapping photos of you both throughout your day but it's also fun to have photos from your perspective to remember your day by.

Your favourite snacks & Water. You will most definitely get hungry and thirsty at some point so make sure you have a few things along to keep you both energized.

Bear spray. Bears are common in B.C. so we want to always be prepared.

Bug spray & sunscreen.

Pen for signing your marriage license

Headlamp

Raincoat. You never know when it is going to rain in the mountains!

Download offline maps

Portable charger for your phone.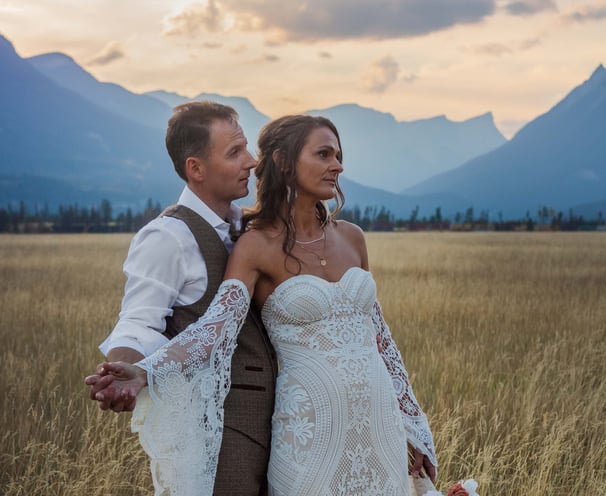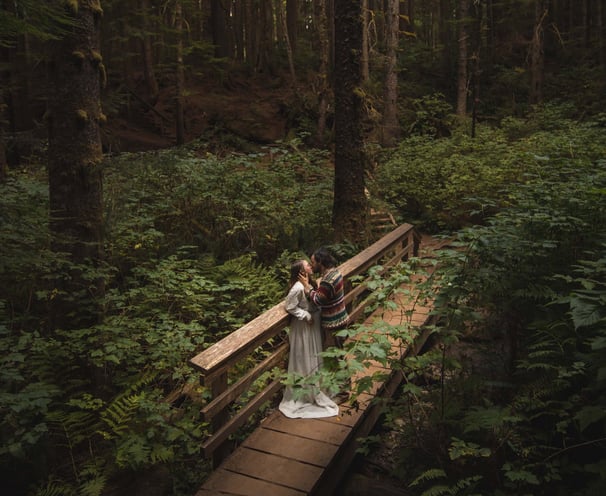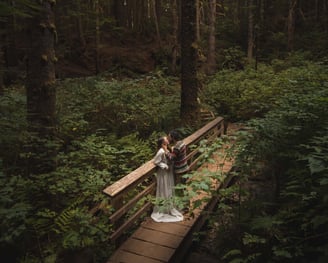 Ready to start planning your elopement in British Columbia?
Elopements are weddings customized to how you want your special day to look! No matter what type of vision you have for your elopement I'm here to help to help it come to life. Whether you have already started planning or just starting let me help guide you in creating your dream elopement.