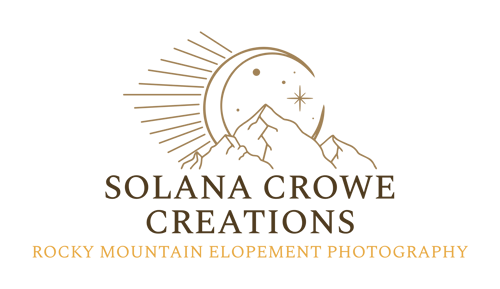 Alberta Elopement Planning Guide
Planning an elopement can feel like a daunting task as there is more creativity involved in your wedding day. You may be at the stage where you're wondering where do I even start. Or maybe you already have a few ideas and you're wanting to know if you forgot anything! This blog post will help you make sure your on the right track when it comes to planning your perfect elopement in Alberta.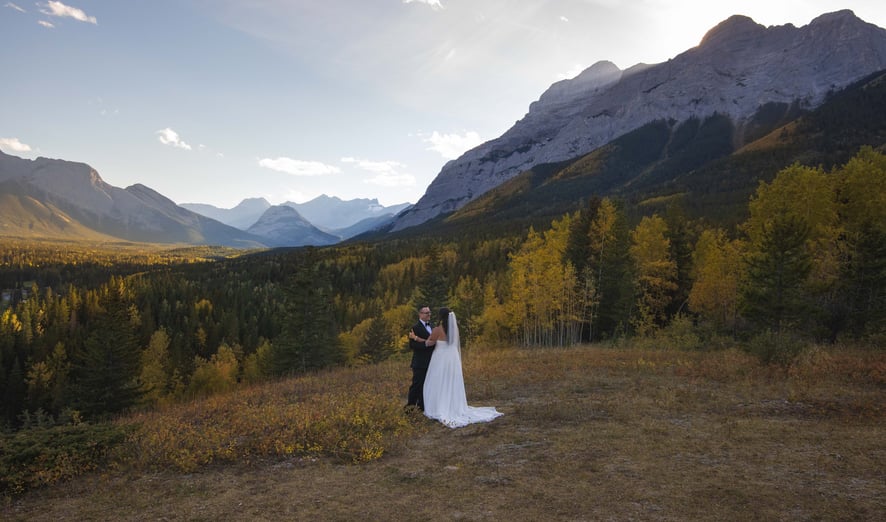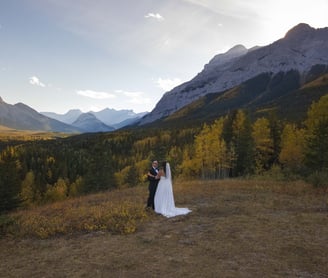 1. Choose your Destination:
Alberta is a beautiful province full of stunning natural landscapes, so decide what type of scenery you'd like for your elopement. Alberta has everything from the Rocky Mountains to prairies, lakes, badlands, and even some larger cities. The most popular locations include; Drumheller, Banff, Jasper, Kananaskis and Waterton to name a few!
2. Pick a Date:
Select a date for your elopement that works for you and your partner. Consider the weather and what type of landscape you'd like to be in at that time. This data can usually be pretty flexible depending on your photographer. Choosing a weekday is the best option for avoiding crows and tourists, especially in the summer months! Also, make sure to check if your location is open during the time of year you want to elope!
3. Get Your License:
Make sure you have the necessary marriage license from the province of Alberta. You can easily obtain one online or from a registry office. Also If you eloping in a national park you want to make sure you have the permits for eloping in any Alberta national parks.
4. Hire Vendors:
If you're planning an elopement, you'll need to hire vendors to help make the day special. Elopement vendors to consider; a photographer, videographer, florist, caterer or a restaurant and a hair and makeup artist. You can find vendors online, on social media or in local Fb groups.
5. Choose an Outfit:
Pick out an outfit for yourself and your partner that is both comfortable and that you love. This could be anything you want! It's your elopement. If you want to elope in an expensive dress do it. If you want a cheap dress you can trash at the end, definitely do it. If you want to wear a coloured dress do it!
6. Create Your Vows:
Write down your vows so you can have them ready on your big day. Vows make eloping even more special and you can be your true self! You don't have to worry about sharing intimate details with family and friends. This moment is all you two. I would highly consider getting cute vow books to cherish afterwards. You can get them on Etsy or make your own if you're artsy!
7. Schedule your day:
Depending on how you want your elopement day or days to look, will depend on the hours needed for your elopement. Maybe you want to get ready together, take a helicopter up a mountain, have your ceremony, have lunch at your favourite restaurant then go off and do an activity. There are so many ways to schedule your day, however, keep in mind the best time for photos is sunrise and sunset with mid-day (11-2 pm) being the worst!
8. Plan Activities:
Activities are a great way to add a little more epicness to your elopement! This can be anything from hiking up a mountain, canoeing on a lake, going up a gondola and whatever else you can dream up. Deciding which activity sounds the best for your elopement will help determine the timeline and hours needed with your vendors on your elopement day.
9. Send Invitations:
You don't need to invite a lot of people to an elopement, but you may want to send out a few invitations to the closest members of your family and friends! Usually, up to 20 guests is a good amount to keep your wedding at an elopement level. You can make your own invitations or find artists who specialize in wedding invitations. Doing this after your engagement session is a great use of your engagement photos.
10. Plan a Reception:
If you want to celebrate your elopement with a reception, plan out the details of the event. This can be a backyard get-together with your loved ones where you share the photos and video of your elopement a few weeks later. Or you can plan an after-elopement reception on the day of your elopement. That may look like going to dinner with all your loved ones.
11. Relax and Enjoy:
On the day of your elopement, take some time to soak in the moment and enjoy being married. Your elopement should be fun and all about you both having the best day ever!
Need help with any of the above? I would love to help with your vision of your perfect elopement here in Alberta! Feel free to send me a message and I will be in touch with you soon. In the meantime check out my other blog posts to help you plan your elopement!