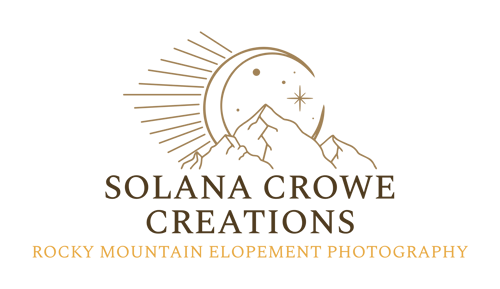 Saint Lucia Elopement Planning Guide
Saint Lucia is a beautiful island in the Caribbean anddraws couples from all over the world looking for a breathtaking island to get married on. This destination wedding location has something for every type of couple. From the adventurous wanting to elope, or the couple looking for a luxury resort wedding. I will be sharing all the details about eloping in Saint Lucia. From where to elope, best places for photos, where to stay, avoiding touristy areas, the driving situation and more.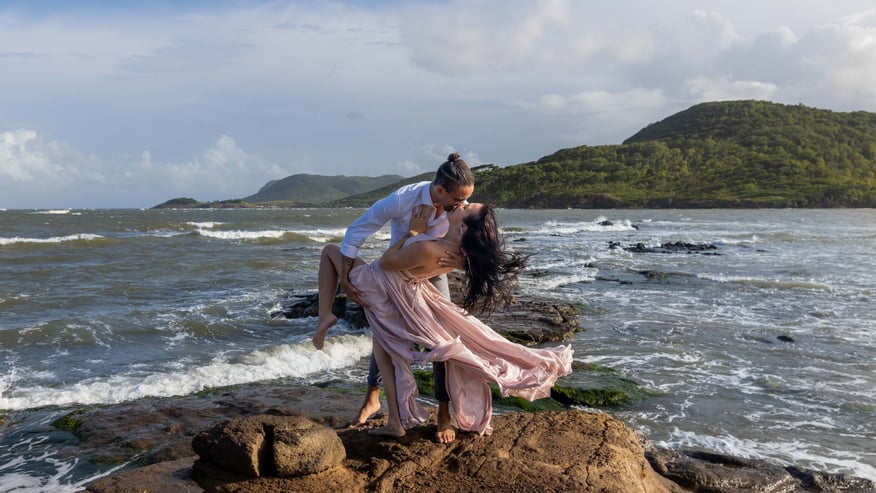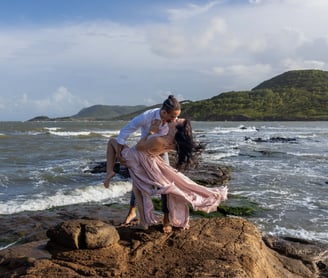 Reasons couples choose Saint lucia
A big factor that draws eloping couples to this island is the Pitons. The Pitons are a pair of volcanic plugs that rise more than 3,000 feet above the Caribbean Sea. They are located on the island of Saint Lucia, surrounded by a large area of rain forest. The Pitons are a popular tourist destination for visitors to Saint Lucia because of their unique shape and stunning views. They are also an important part of Saint Lucian culture, which has its roots in African traditions. Another reason is the beautiful beaches, the jungles, waterfalss and cliffs! Out of all these beautiful landscapes, here are the best places to elope in saint lucia.
Resort weddings vs non
Resorts are one of the most popular places to get married in Saint Lucia and there are so many beautiful ones to choose from. However for couples who dont like the idea of resorts and what a little bit more adventure, there isnt too much detail on how to go about it. In this blog I will be sharing not only information on resort destination weddings but also information for the couple who wants to do their own thing away from the touristy areas.
1. Elopement locations in saint lucia for the couples who want to stray away from resort weddings.
Beaches
There are so many beautiful beaches to choose from on the island its hard to choose which one is the best so that is up to you to deciede however, these are my favourites that are perfect for an elopement.
Cas en bas beach

Locatied on the north end of the island, this beach is the perfect option if your wanting a secluded area with minimal people around. The water gets pretty rough here as it sits on the Atlantic side of the island, which can make for some epic photos

Pigeon Island beach

If your wantting to elope on the carribean sea, Pigeaon ilsand beach offers beautiful white sand and clear blue waters. This side of the island is generally more popular as there are resorts everywhere, however, this beach is one of the more quiet areas on the carribean side. You can also go check out the views from carib caves just beside it.

Honeymoon Beach

Heading towards the south east side of the island youll find honeymoon beach. This beach offers grassy hills and a beautiful stretch of beach with beautiful views. Since this beach is on the Atlantic side, tourists are minimal allowing you to enjoy the beaches beauty with nobody around.

Anse Chastanet & Anse mamin beach

These two beaches are located on the sw side of the island, meaning you will have a little more action when it comes to tourist. These beaches however are less known allowing you to have the carribean wedding of your dreams regardless.
1.2 Beaches with views of The Pitions
Hummingbird beach, soufiere
Hummingbird beach, offers a beautiful view of one of the pitons and is one of the better otions for a ceremony location. This beach is gravel, meaning you may want to have shoes with you since it can hurt a bit walking around! This beach is one of my favourite suggestions if you want to see the pitons in your photos!
Jalousie Plantation Beach/ Sugar beach
Jalouise Plantation beach, also known as the popular sugar beach, is one of the more well known beaches of saint lucia. This beach offers great views of the pitons however, dont be fooled by the images of empty landscapes. This beach is right at a resort, meaning there are lots of people around. So if you like your space I would avoid this spot.
Lastly for the best view of the piton, the Gros Piton nature trail offers the best views and even one from the top! If your a couple who loves adventure and hiking I would sugguest this little hike for some of the most amazing views of the pitons and the caribbean sea
1.3 Waterfalls
This waterfall is location on the south of the island and requires a short hike through the jungle meaning you can take beautiful jungle photos along the way. These waterfalls are breathtaking like many of the waterfalls on the island and a great place for your elopement or just a fun activity on your day.
Another great option is Macdomel waterfall. Similar to the waterfall mentioned above, there is a little hike into the rainforest before arriving at the falls. This is another great spot to check out for photos or to have your ceremony.
Diamond falls botanical garden
Located on the south west side of the island, these waerfalls are great if you want to stick to the main roads. Close to the pitons, these waterfalls are great to check out and get some beautiful elopement photos.
1.4 Cliffs
If you though saint lucia couldnt get any better.... well theres cliffs too! Cliffs oofer a great opportnity for dramatic elopement photos and these cliffs will do just that!
Cabot cliffs is a beuatiful area on a golf course. These cliff offer amazing views of the ocean with its grassy cliffs all over the shore. This is the perfect spot if you love golf or just want epic views!
La croix point offers more breathtaking cliffside ocean views. Located close to the east coast riding stable, you can take a tour on horseback to see all the beauty this area has to offer. This is a great activity idea for your elopement in Saint Lucia.
Located on the south east side of the island, Praslin bay offers cliffs with beautiful beaches you can go doen to. This bay offer views of Praslin island and is the perfect spot for your elopement.
Carib Caves & Signal peak
Located on the north west side of the island sits pigeon island which is next to my favourite pigeon beach. This island (connnected to the mainland) offers a small hike to two viewpoints; Carib caves & Signal peak. If you want to say your vows on top of a hill looking out over the ocean and the rest of the island this is your spot! There is a small fee to get into the park but its definitely worth it for the views.
Overall you cant go wrong with any spot on this list! There are so many beautiful spots on this island. If you have any questions about any spots on this list, send me a message and I would love to help!
2.Getting around the island
Finding out how to get around the island can be tricky! Driving in Saint Lucia is a little bit diffrent then it is in places like Canada and the U.S. In saint lucia you drive on the left side of the road like in england. You also use your horn as a positive responce in traffic; to let people in, to alert people your going etc. So yes you will get honked at constantly however its a good thing.
Road conditions:
The road conditions in saint lucia are a little tricky to navigate. The main road the goes around the island has good conditions from the south to the north heading up the east coast, however heading up or down the western side is a little bit more tricky. When it rains alot the west side can be a bit tretcherus to navigate so if you plan to drive here make sure it hasnt been too rainy and give yourself lots of time for traffic.
Google maps:
Google maps can become pretty unreliable on the island. When I head out to go location scout there have been times where google maps show a road when there isnt actually a road. Or instances where there is a road, however its non drivable. So if your headed to a place a little bit off the beaton path be aware that his may happen so a backup plan is always a good idea.
Safety:
Saint Lucia is a pretty save island with very friendly locals. There are a few things you do want to keep in mind so you can have a great trip without any terrible stories. One thing you want to avoid is trecking through unmarked ares of the rainforest and be cautious on markd trails. Saint lucia is home to an overpoplation of very venemus snakes menaing you need to be aware constantly when in the forests.
3.Where to stay
A great place to stay on the island that I have previously stayed at is the flamboyant villa. This villa is located on the north west side of the island with views of a beautiful mountain valley. This villa is in a great location close to the emenites, beautiful location on this this and even has a private pool and bar. You can book the whole villa or a private room meaning you can have a fe guests along for your elopement if you choose.
Wedding locations for the couples who love the idea of a resort destination wedding/elopement
If your looking to relax and enjoy your wedding day hanging out at the beach, eating good food and getting pampered, then this section is for you! I will be sharing some of the best spots for an all inclusive resort wedding in saint lucia.
Anse Chastanet Resort & Spa
If you're looking for a beach wedding, Anse Chastanet is a great choice. The resort has three beaches: Beach 1, 2 and 3; all of which have white sand and clear waters. It's also a good option if you want to get married in a more tropical environment as opposed to something more traditional like an old church or courthouse (though those options are available).
If you want something even further away from civilization than Anse Mamin Bay but still within driving distance from Soufriere Town (where most guests will likely be staying), consider having your ceremony at La Sagesse Nature Reserve near Laborie Beach Park instead!
Jade Mountain is a luxury eco-resort located on the west coast of the island. It's a great option for couples who want to get married in a beautiful location, with plenty of activities and amenities on site. You'll find Jade Mountain just off route N2 and well within reach of Castries, Saint Lucia's capital city (which you'll no doubt be spending some time exploring). Your hotel will be right there when you need it--and away when you don't!
La Toc Estate Resort & Spa
La Toc Estate Resort & Spa is a luxury resort located in Soufriere, Saint Lucia. The property offers a spa and an idyllic beach that's perfect for eloping. The hotel has a wedding package that includes everything you need for your ceremony: flowers, cake and music (you can choose from their playlist). You'll also get one night's accommodation at their hotel after your big day so you can spend it together in style!
A beach club is a great place to elope in Saint Lucia. The Grand Case Beach Club is on the beach, so you can take advantage of their butler service and private chef while enjoying your time together
Conclusion
Elopements are a great option for couples who want to get married in a beautiful location. They can be intimate, simple and affordable. Elopements are perfect for couples who want to get married without a lot of fanfare. Saint Lucia is an island that offers many options for eloping couples: beaches, mountains, rainforests and more! Whether you're looking for an intimate elopement or a larger wedding, Saint Lucia is the perfect destination. With its beautiful beaches, lush rainforests and stunning waterfalls, there's no better place on Earth for your special day. Need help planning your leopement in St. Lucia? I offer planning assistance within my photo packages and would love to help bring your vision to life! I cant wait to help you strat planning your St .Lucia elopement :)