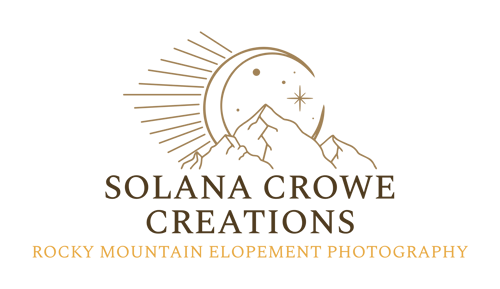 A Banff Icefeilds Parkway Elopement
From the town of Banff to the Athabasca ice fields Ryan & Lisa's elopement day captured some of the most breathtaking views Banff has to offer. From their first look with an epic view just outside of Banff to getting caught in the rain at Lake Louise before heading to Peyto Lake for their ceremony. They enjoyed cake overlooking the Athabasca Glacier and climbed up a waterfall for a foggy sunset. Not only were all the spots epic but also accessible to their two older dogs.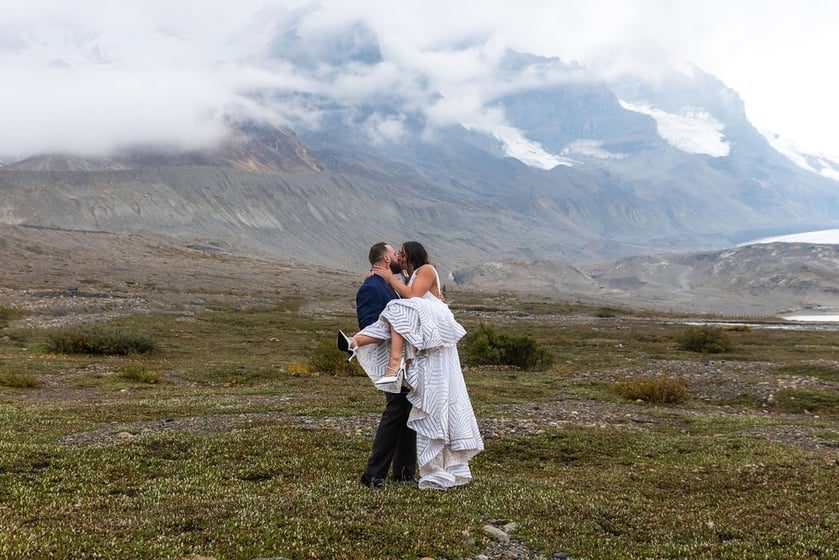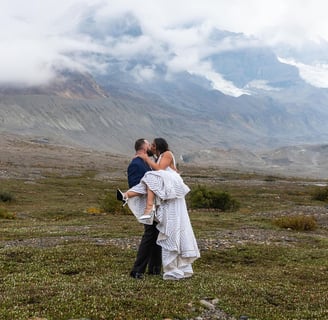 A Rainy Elopement day In Banff National Park
Lisa and Ryan's elopement was as epic as it looks. These two travelled to Banff from Manitoba to elope with their two dogs, best friend and her daughter. They opted for an Icefields Parkway elopement which did not disappoint! So keep reading to hear how their day went.
The day began with Ryan and Lisa & they were getting ready at the rocky mountain resort in the town of Banff. This resort is a great affordable, pet-friendly option with a great layout so you guys can both get ready without seeing each other before your first look. The rocky mountain resort also provides a great first-look location just a 5-minute walk away! So after getting ready, we headed out to their first look location which was a beautiful field overlooking some of Banff's iconic mountains.
Lisa and Ryan had written letters for each other which they each read privately before they did their first look. It was a great way to build up the moment and let the emotions come out. After their first look, they spent some time living in the moment, chatting a bit and admiring the view before we headed off to our first stop down the Icefields Parkway.
Our first stop was Lake Louise where we were welcomed by a bit of a rainy sight. However, we came prepared with some umbrellas and just embraced the weather. One great thing about Banff is that if it's forecasted to rain all day it will probably only rain for 10 minutes which it did. Unbothered by the rain Ryan and Lisa enjoyed their time experiencing Lake Louise.
After Lake Louise, the plan was to head to Bow Lake for a picnic however we ended up a little behind schedule so we decided to skip to the next spot; Peyto Lake. Peyto Lake is a great little accessible hike with epic views along the Icefields Parkway and a perfect place for a ceremony. Their ceremony was short and sweet, exchanging a few meaningful things about each other before saying I do. After their ceremony, we hung out for a bit to get some photos and to take in the amazing view! Peyto Lake was extra special as it is shaped like a wolf and so the dogs fit right into the scene.
The celebration then continued as we headed down the Icefields Parkway towards the Athabasca Glacier. This was a bit of a drive to get to but it is totally worth it for the epic views this area gives. Lisa & Ryan enjoyed some cake and celebrated with some shots while looking at one of the most epic mountain views around. Before heading to our last stop we had some fun capturing their time there and looking out at the glacier.
To end the day on a high note, we climbed up a waterfall, enveloped in a mystical fog, for a really unique sunset. The vibe of the fog and the sunset looked like something right out of an adventure movie so I knew we had to bust out the lanterns at this location for an epic scene. These waterfalls were super accessible and right off the highway making it the perfect stop to add to your icefeilds elopement. We climbed all the way to the start of the waterfalls with each section of it giving off a unique look. It's like you get to see multiple waterfalls at once.
And just like that, 6 hours later, the sunset and the day was over.
The love shared between Ryan and Lisa radiated through the mist, rain and sunny moments creating an enchanting atmosphere that will forever be etched in their memories. Ryan and Lisa's elopement day was a testament to the beauty and even accessibility of Banff's hidden gems. It was an honour to be a part of their day, capturing the essence of their love amidst some of nature's most breathtaking wonders. The Icefeilds parkway is one of the best places to elope in Banff as you will see from the images below!
Your Elopement Photographer
I am a Banff elopement photographer specializing in elopements in Banff, Canmore, Lake Louise, Jasper & Vancouver Island. I also shoot elopements in British Columbia and even beyond that!
Just like you, I understand that life's greatest treasures are moments. Not big elaborate things that will fade, but those moments doing what you love surrounded by our beautiful world with your favorite person.
As a fellow adventurer, I thrive on crafting elopement experiences that bring your personalities to life! I get it—traditional wedding photography might not resonate with your desire for intimate moments and genuine emotions. My goal is to tell your unique love story by capturing photos that tell a story.